Take Your Kids Party to the Next Level
Take Your Party to the Next Level
Rent Characters
Make your birthday more special with party Characters
Do your kid's get locked into Mickey Mouse, Minnie Mouse, Elmo, PJ Mask, Baby Shark, Paw Patrols etc? Of course nothing is more important than seeing your kids happy face. Birthdays are meant to be memorable with family and friends joining together in that happiness. Every parent is dame excited about the birth day and happy moments of their kids. To make them feel good, all parents are always ready to spend more and more on their birthdays and other parties. Most of the children love to add characters in their party. You must be ready to do what they actual want. Boys and girls always have different choices to make your birthday special. Girls like Princess characters and Boys take interest in Superhero's Parties.
Birthday Party Characters
Today, rent characters in the Birthday Parties are in trend. Kids love to add them to enjoy singing, dancing, photo shooting, face painting as well as in cake cutting. Daughters of the parent like Princesses to add and Boys like Superhero's Characters to add. Doing Fun with them is the unique way to make the day special. The most common characters that you can add are Mickey Mouse, Minnie Mouse, Elmo, Fortnight, PJ Masks, Paw Patrols, Peppa Pig, Mr. and Mrs. Incredibles, Baby Shark, pirates.
Birthday Party Characters
Great Ideas for Superhero party for kids' birthdays: If your kid loves to enjoy games and enjoy private playing with the superhero characters then you can hire Spider man, Batman, Hulk, Black Panther for their birthday parties. There are several ideas that are must for Superhero party for kids' birthdays like planning & invitations, superhero foods, private playing with them, superhero's decorations and superheroes' games & activities.
While making your birthday invitation, make sure that your invitation is bold, bright, and it communicates the superhero theme.
You can use creative poster boards to create a cityscape backdrop at your food table. You can add superhero logos in the party.
In the section of food, you can use superheroes colors as a jumping platform for eatables like candy buffet, drinks, and of course cake and ice cream.
You can use your superhero as an inspiration in various games and activities.
Without favors, no party is complete. Use the favor bag as a fantastic close to your party with superhero kits to go for each kid.
The specific items like black licorice or bat cookies for batsman, silly string for Spiderman, Pop Rock candy kryptonite for Superman or neon green marshmallows for the Hulk can be a great idea for your characters in the party.
The battles between avengers, batsman, Falcon, iron man and black panther can be themed in the parties. Children love to enter in the battle and can enjoy more in their parties. It's up to you and your child, what kind of characters you want to include in your party. While adding these characters, you can see the happy faces of your child and you will feel that it costs nothing in front of their faces. Other characters you can add in your parties are Joker the villain Flash, Robin, Captain America, Thor, Black Panther, Wonder Woman, Superman, Iron man and Venom the villain.
First choose the Princess as well as super Hero for your kid and then book the character. Every child has its own choice of characters. So, hire a character according to their choice. Give a feel of wow to the face of your child.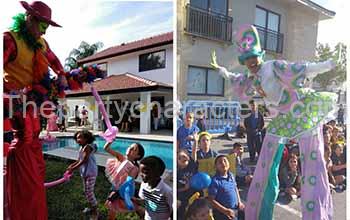 Birthday Party Characters
Special Event Planning:
If you are planning for some special events in the party, then you can hire LED Robots characters in your party. They can dance, play and sing with your children. You can start you party with LED lightning show. It will give a great look to the guests and crowd.
The best and the super way to impress the guests at your party is to do some thing different. Many people do the same things in their parties but what you are doing special for your kids. Do you want to make your party unique and special while spending a small amount of money? You can plan for special events.
If your guests are children, then you can plan all the character party in the evening time. If your guests are in the younger side, then you can plan it as late-night party. You can hire Hula dancers, Samba dancers, Drummers with LED lights to add flair in your weddings and parties. To make the memorable day for every guest, giant Robot LED characters can play an important role.
If you are organizing a corporate event and want some less traditional, LED robots can make your party more appealing and memorable to every minds of the guests. It can give more relax to the loaded minds of the workers. You can plan for Hora Loca events in your weddings quincineras, bar mitzvahs, anniversaries, retirements and elderly home events. Ноrа Lоса LЕD Rоbоts can give you the show for 30 to 45 minutes and can grab all your guests and take them all to the dаnсе flооr to make sure that everyone in your wedding is еnјоуіng the night of the party.
Rent a Midget Entertainment
If you want to bring special characters to your birthday party to add more fun then we can suggest a costumed little people fun entertainment dressing up in funny costumes like Oompa Loompa, Donald trump, el nacho libre, leprechaun, minion, Mario brothers, etc.
ООМРА LООМРА DWАRFЅ
This and old but favorite concept for all. The Oompa Loompa is great for
Meetings & Greeting guests upon arrival
Mix & Mingle
Pose for photos
To give out golden tickets
Give candies
In collecting all at the dance floors.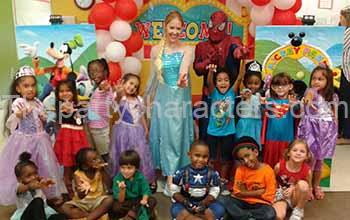 Party Characters for Kids
Princess Parties characters: There are a lot of themes that you can chose for your daughters. Princess parties' characters are enjoyed by the girls happily. If your kid's birthday is coming so give a best treat to them. Enjoy with them and make the precious day memorable. Many princess characters that can be included in the parties are:
Princess Characters
Ariel the Little Mermaid
Cinderella
Elsa and Anna
Sleeping Beauty
Rapunzel
Snow White
Jasmine
Belle
Alice in the wonderland
Moana
Other Fairies
Your daughters can be dressed well of like fairies in the party and it can more flair to the function. The Princess characters can tell you the stories, can dance or sing with you and can take part in the games.
Party Characters for Kids
Santa Claus Events
If you are finding the Santa's to hire in your weddings and parties, then here we can help you. If you wish to hіrе a Ѕаntа with fantastic соstumеs we can suggest you some of the best dressed Ѕаntаs. While coming to our platform you can:
Hire Santa's for birthday party
Hire Santa's for distributing the gifts
Hire Santa's for parties at your home.
Our platform can also suррlу you with Мrs Сlаus, Міss Сlаus and Еlvеs as wеll as other еntеrtаіnmеnt for your Christmas Еvеnt – Соstumеd Сhаrасtеrs, Ѕtоrуtеllеrs, Ѕtіlt Wаlkеrs еtс. You can a Santa Claus for Christmas, Santa elf midgets, the Grinch, Nutcrackers for office parties, house Christmas parties, city events and more.
Not only for the birthday, Hiring Santa's can add more flair to your office parties, Christmas parties, Celebrity events, Town celebrations, city center promotions and Grottos.
You can add Santa at the time of your cake cutting ceremony
You can choose a theme of Santa's dress up for all the kids in the party
You can add Santa's at the time of cake of candy's distribution.
You can add Santa at the time of dancing on the floor.
No doubt, Santa in the party will provide charm on the faces of your faces. Not only Santa's but we can also provide you the whole story, theme and dress-up that can make meaning in the party.
Party Characters for Kids
Easter bunny events:
Easter bunny events are the seasonal events that involved Easter bunny and you can get the opportunity to capture spring-themed photos with the Easter bunny. It's time to pop out the pastels and bows, so feel free to bring special props from home. Special events on this time can be face painting and egg hunts.
Face painting: Some characters are expert in doing face paint. Your face will be covered with paints. It will add more fun to the party.
Egg hunting: Egg hunting is also the special event in the Easter bunny events. Children and adults both can enjoy these moments well.
So you're looking for some party characters nearby, that is not too far from your location. If you need to change the location of your venue, due to weather, venue overbooking, or other issues and are asking where can I rent party characters near me? Well, we have the main cities we are in for kid's birthdays, like Miami, Fort Lauderdale, Palm Beach, Houston, and San Antonio. We also are in some other nearby places:
| Cooper City | Davie | Miramar | Pembroke Pines | Southwest Ranches | Sunshine Ranches | Weston |
Party Characters for Kids
Wherever you want to enjoy, you will be dressed up like your character with your friends and you can enjoy in that dress. Moreover, With the cake cutting and dancing, you can add special characters to your party like Paw Patrol characters, Elmo, Mickey Mouse, PJ Mask Cat Boy, Gekko, Darth Vader, Storm Trooper, Jedi, Kyloren, Rey, Chewbacca, Troll characters Poppy and Branch and Pokémon. It will give more fun to your kids.
How Party characters enjoys the group? Following are some activities that characters can do to entertain your child and other friends.
Interactive story time: the characters can gather the students and children in a very interesting way to tells them various stories about kings, queens and fairy tales. This will become the most memorable part of the party.
Games: Most of the children like to play games. To make feel of interest you can hire an expert game organizer for two or three hours to you your party. Games including duck-duck goose, musical chairs, freeze dance and many more can be a part of your children.
Photo shooting: Characters in party can shoot your pictures well. They have their own cameras and you can give them to click every moment of the party.
Cake cutting and songs: Characters are available at the cake cutting time to add more fun. During cake cutting, presence of well-dressed characters makes the party more excitable and interesting. They are for you to entertain your child with their songs and dances. You can also dance with them.
Character Party Rental
Conclusion: Are you planning to celebrate your kid's birthday? Is your kid's birthday is coming? You can choose the unique and the best way to celebrate it in the society that people will say "WOW". Moreover, your children can be happy of your arrangements in the party. There can be many parks, museums, birthdays halls, and playgrounds where you can go with their children to celebrate the precious day but adding party characters can worth a lot. These party characters will give you the special smile on the faces of the children. Here at our platform, you can get all you want for your children. Arrange your parties with us. We will bring unique characters to the life of your children. We can arrange Hora Loca, super hero party, Holiday party, Princess party and fairy parties. For more information you can visit https://thepartycharacters.com/ . Come to us and take your party to the higher level.