Houston Party Characters
Houston party characters – are you a mom and asking yourself, "Can I find a fun company that has party characters near me?"
Are you looking for a fun party idea? We have the best superhero characters in Houston, Texas. Our team is made up of muscular superheroes that look the part and are great with kids. They will make your child's birthday party unforgettable!
You can hire our staff to come dressed as their favorite superhero character for your child's next birthday party or event. Our team looks like they could be actual superheroes, making the experience more realistic and exciting for everyone involved! Your child will love having these strong heroes on their next special occasion. It doesn't matter if it's a themed birthday party or just an ordinary day, and we'll show up ready to save the day!
1. Bring your child's favorite characters to life for their birthday party!
2. Our performers are highly skilled and talented in character impersonation.
3. We will take care of everything, from setting up the venue with our games to cleaning up afterward.
4. Your child and their guests are guaranteed to have a blast!
Click this call button right now and book us today!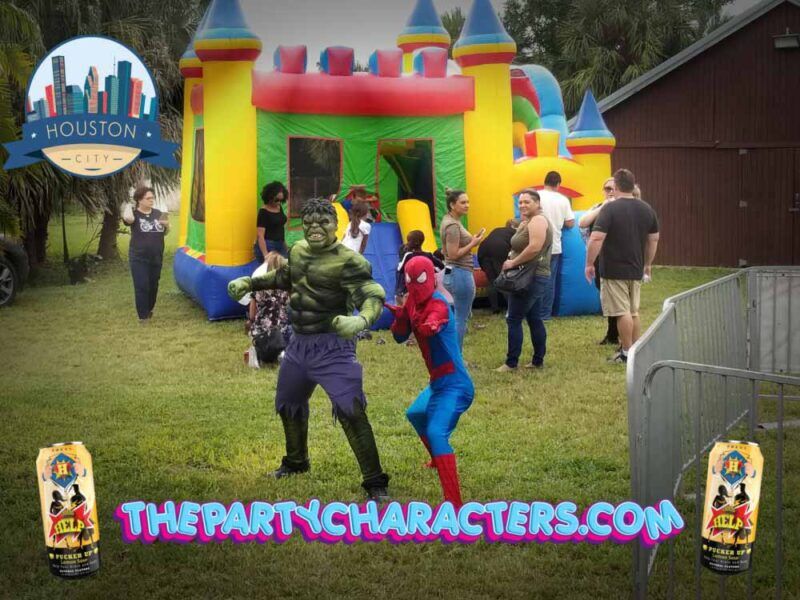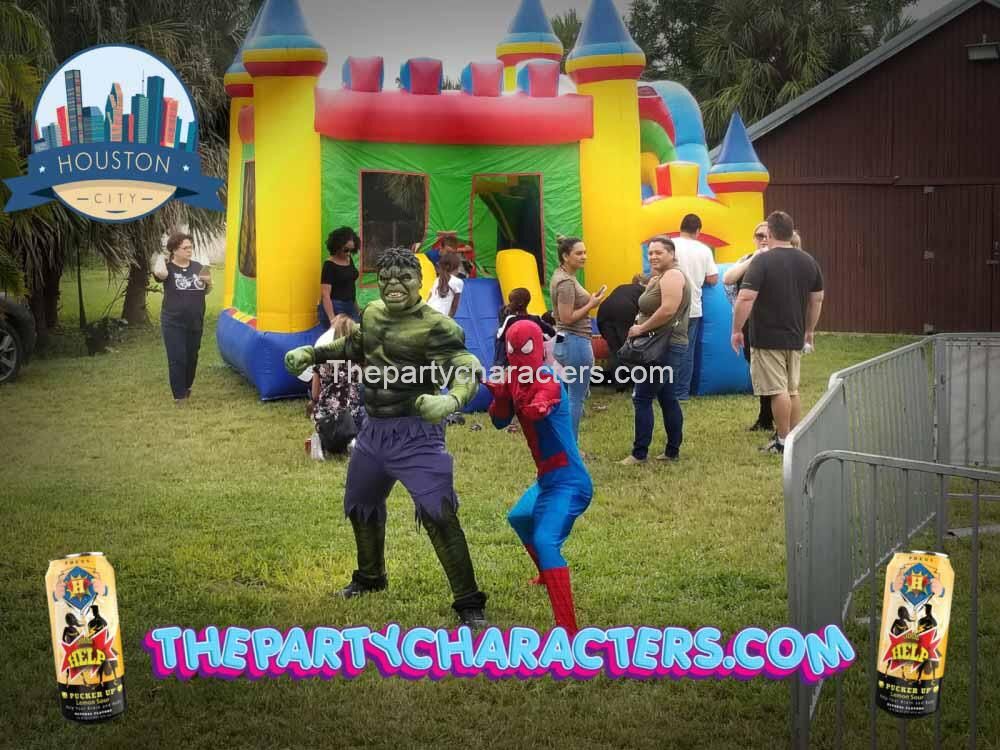 Hire Houston Party Characters For A Kids Birthday Party
The great news is, Houston is a home of several parks ideal for throwing kid's birthday parties, you just need to hire Houston party characters like Paw Patrols, Mickey and Minnie Mouse, Spiderman, Elmo, PJ Masks, Baby Shark, Princess Elsa, or anyone your child like most.
Here're some of our favorite parks I want to share with you:
Check Out River Oaks Park To Celebrate A Birthday Character
This park, also known as Pumpkin Park, is straight out of the Story Book. Well-known Cinderella's pumpkin carriage is the crowning point here, though you will also find a bunch of play courts, a short bike and hike trail, and the park's other defining and unique attraction – A set of wishing trees where you can write a wish on a slip and pin it to the nature – ideal for a dream come true. All in all, River Oaks Park is a great place to celebrate your kid's birthday party.
See Jerry Matheson Park For A Kids Birthday
This park is one of my favorite around Houston. It is all wooden and has several areas, hiking, and even a great zip line so that your kids of any age will have an excellent time. There's a cover pavilion ideal for partying adjacent to a field excellent for running!
Our Party Characters Love Spring Creek Park
You will find a wonderful wooded paradise here in Houston. There're 2 playgrounds, one which caters to children under five ages and the bigger one with a huge slide. There is an archery range, a lot of picnic tables, hiking trails, including a pavilion also you hire party characters from us to entertain your kids to make your event more spectacular.
Swing By Donovan Park For A Fun Kids Birthday
This park is a safe, gates, and elegant park with wooden themed pay structures, sandboxes, swings for a traditional day of playing in the park for your children. They even have a train to play, making it the best location for our little one!
See Other Parks We Go To For Your Kids Birthdays
Discovery Green
It's one of the biggest and best parks to go for any kid's event in Houston, whether you want to rent a party place out or just throw your party in 1 of many open areas. Discovery Green park has limitless fun birthday party options with hiking trails, ice skating, and much more.
Hermann Park
With its well-known hill and Miller Theater, this park is a supreme choice among locals for many great reasons. The park also provides a wonderful Japanese garden and many wooded areas, along with being within walking space to the museum district making it an ideal place to host and hire Houston party characters for your Childs birthday party.
Memorial Park
This park is a wonderful option if your birthday girl or boy is a bit more sports lover. The Memorial Park provides many different sports courts such as baseball and softball. Bring a cake in the form of baseball or football and has a sports-styled birthday party.
Buffalo Bayou
This is place is an excellent choice for a more relaxed, and environmental feel. Look and relax at the bayou, make the clean water burp, or view amazing public art and have some great fun at the State Park.
Sesquicentennial Park
This is the best park for your child's birthday party if your family and guests love the water. The park hosts several canoeing and boating races and even has a stunning waterfall. Enjoy the water in the gazebo if you do not want to jump in, or watch the many boat launches!
Tranquility Park
Space lovers will love this very beautiful park because it aims to commemorate the primary landing on the moon, right after the sea of tranquility. Its fountains and terrain specifically mimic rocket boosters and moon terrain and make for a perfect place to hire Houston party characters and host great birthday events.
San Jacinto Battleground
If your kid lover of history, you'd love to have a kid's birthday party in this park because it commemorates the park where Texas gained independence. This memorial column is bigger than ever the Washington Monument and even it has a great museum!
Jesse H. Jones Park and Nature Center
If you want to see a range of environments from the beach to the bog to the meadow to the jungle, his park is heaven for you. It hosts these ecosystems and you can take a complete tour to see how the place has preserved the space from when its earliest settlers arrived.
Mary Jo Peckham Park
This Park has a big playground with areas for toddlers and kids, a stocked fishing compound, a find pond, miniature golf, many ducks to feed, and a BBQ pavilion for birthday parties.
End words…. To celebrate your Childs birthday party in style with entertainment, choose us for Houston Party characters.
We're a company that specializes in entertainment for kid's parties in Houston. We've various party themes, our shows with a bunch of different party characters are of top quality and each of our characters is in charge of bringing them to reality so that your event is memorable.
The most popular kid's birthday party characters are Mickey and Minnie Mouse, Blippi, PJ Masks characters, Paw Patrols Chase and Marshal, Spiderman, Baby Shark, Fortnite characters, Elmo, princess Elsa and many more. Our entertainers will surprise you and your kids and give a special touch to your event.