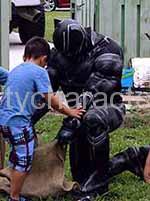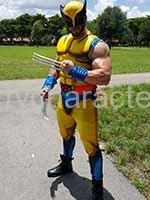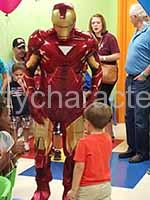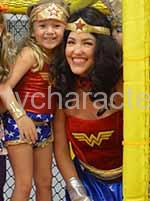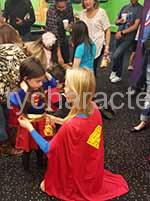 Superhero Party Ideas
Things to keep in mind while planning birthday party for your beloved one:-
Invitation cards: invitation cards puts first impression on the guests so it should be able to represent the style of your party and also invitation cards are one of the best ways to invite your near and dear ones in style. The thing that you need to do is to design and print the best quality invitation cards in order to fulfill printing needs of your cards in style. To make fun invitations, you need to be sure to do a play on words to correspond with your theme, along with making exciting and creative invites. And for super hero party your card should be apt as per your theme of the party the thing that you can do is take a picture of your child in the costume of his or her favorite super hero and attach it to card stock with the description "Calling All Superheroes", "You are Invited to "name of the superhero's" Super Cool Birthday Party!" Another exclusive idea that you can opt is to use a page from a comic book by "whiting out" the text in the speech bubbles and blowing up the size. And you can add the Party details into the empty speech bubbles take as many as copies you require in color or black and white and attach it to the card stock. Apart from this there are many other ideas that you can use you make the day of your child more special.
Superhero Party Ideas
With DC or Avenger Decorations & Costumes Choices
Decorations: Decoration is an important part of a superhero party if the place of party is well decorated then it will definitely force people to stay at party for more time. And, if you are organizing a theme based birthday party then once theme of your child's birthday party has been figured out, the ideas for decorations will start to flow. The whole decoration should be Concentrated on the theme, for example if your theme is Superman in that case You can use lots of red & blue balloons, streamers, table covers, tableware and curling ribbon. The other option is to do multiple Superhero Colored decorations and hang posters everywhere. You can buy Superhero Posters from your local Department Store and can use pages from coloring books or download some clip art pictures and enlarge them. Hang Posters around the party area. Also, Superhero comic books are great way for making posters and using the pages under a apparent table cover for a table decoration. Or if you are going to choose Batman theme for the birthday party of your kid then at party decoration should be done by using black and yellow, whereas a tea party might be lavender, pink, mint green, and cream. If you are looking for making a major statement, then you will definitely want to think about turning the venue of party into that theme. For example, you can turn an entire room into an undersea adventure for Finding Nemo. You can cover the ceiling by using net and can fill it with blue and white balloons to create the clouds. Also the walls can be covered with blue butcher paper for the water. In addition, attach various fish pictures from fishing line and hang from the ceiling.
Costumes: Firstly you must decorate your guests. You can request the kids to come as dressed up as their desired superhero or you can "make your own" superhero gear at the party by offer Caps, Gloves and Masks to the guests. The caps can be made up of any fabric that does not skirmish and the gloves should be mini stretch with the fingers cut off. After that, Masks can be easily made by using a pre-cut template, craft foam and stretchy string. The key is to have ample of colors and textures available. Do not disregard to use pink and yellow if Super girls who are attending the superhero birthday party!
Superhero Party Ideas
Food: Once again, it's time to show the creativity. This doesn't mean everyone needs to eat like Thor did in the new Avengers End Game. Think about your theme before deciding and representing the menu for representing the menu in a unique way you need to come up with some ideas using a play on words. You can create a sign and place by each food item to recognize its new theme name. For instance, you can serve peanut butter, jellyfish sandwiches and Goldfish crackers for a Finding Nemo party theme and at a superhero party, you can choose mini super "hero sandwiches" or Superhero Sub to serve. You can make use of whole sub buns or can make larger sandwiches by using French Bread Sticks. Muscle Burgers – Burgers filled with huge hamburger patties served with all the fixings can also be a good option. The one more dish that you can add is carrot Sticks with Power Dip – carrot cut up into sticks and served with your child's favorite dip. You can also add Super hero juice in the menu of party for a twist here you just need to make ice cubes colored with food color ahead of time thereafter fill clear cups of lemonade with the brightly colored ice cubes. The most important thing the Cake should be your child's favorite character. Color co-ordinate the icing and create a scene with a few action heroes on top.
Party Games: Games are necessary to put live into the superhero party. You can host an Action Hero Olympics. Some of these are outdoors but can very easily be consummate on a smaller scale indoors. You need to prepare a series of exigent feats to test strength and liveliness. Apart from this the games that you can add on is the games related to testing super senses. For this activity you need to have a blind fold, a pair of thick gloves, around 20 Household Items such as a hairbrush, a paper towel tube and everyday common food like a raisin or a small piece of cheese. For playing game to test Hearing one guest is blindfolded and another unknown guest speaks the child's name or any superhero statement throughout the tube in their superhero voice. The Blindfolded child must recognize who is speaking. For testing the sense of and taste "Super Smell & Taste" can be played in which one guest is blindfolded and host puts a small piece of food in front of his nose to smell. If he cannot guess the item by smell only then option of tasting it will be given to him. Lastly, you can test their sense of "Super Touch." Again one person is blindfolded and asks him to wear pair of gloves. Hand them a random household item and give them 30-60 seconds to figure it out.
The most famous themes among the kids:
• Princess theme – Unsurprisingly the little girls love this, and it will be very easy for you because you just need to go with all of the Disney characters and can have the guests dress up as their favorite characters, and provide them the things of princess themed such as costumes, rings, wands, goblets, and highly decorated cupcakes. And for sure don't forget the tiaras.
• Outer Space Theme – To perpetuity and beyond. This is one of the great birthday party theme for kids and this is especially equally preferred by both boys and girls. You can really let your imagination fly with this one and do not be afraid to add some educational fundamentals. You can have the birthday girl dressed up like an astronaut and can have the crafts portion of the party revolved around creating scary aliens. Think stars and planets for the directions and you should add in some lunar cakes and Martian party dip!
• Super Hero Theme – This isn't just for boys it is equally liked by girls and boys think about Wonder Woman or Super Girl. Here you need to consider a game or activity that has "saving" for the theme, and maybe you want to loop a favorite episode of the character in the background. Guests can come by dressed up as their favorite superhero, or you can provide caps, toys and crafts based on the superhero character.
• Animal Birthday Party Theme – This is a enormous theme for younger kids – you just need to pick their favorite animal – from dogs, to dinosaurs to bugs and go all out. This can also work for older kids, particularly if you add a learning theme to it. For dinosaurs, possibly you want to create a dinosaur dig in the yard sandbox, or make a jungle-themed safari in the backyard.
All in all, whatever theme you choose, just keep in mind that the birthday boy or girl will be delighted to be the center of attention and that everything is geared toward his/her favorite things. Give your child a birthday to memorize with these great party ideas make use of a little creativity and imagination, have fun, think outside the box, and you will up with some fun kids birthday party theme ideas to please all of your party-guests.
Bring our Look a Likes to Your Birthday!