Rent A Grinch
Do you need something to give a little joy this Christmas, well rent a grinch? Tired of all those same Christmas things? Need something elegant, do you need something new? We have the perfect Grinch entertainers for you!
Serving: Miami, Fort Lauderdale, Palm Beach, South Fl. Naples, Tampa, and Orlando. Dallas, Austin, Houston Texas. NYC, Long Island, and Hamptons. New Jersey. Philadelphia Pennsylvania.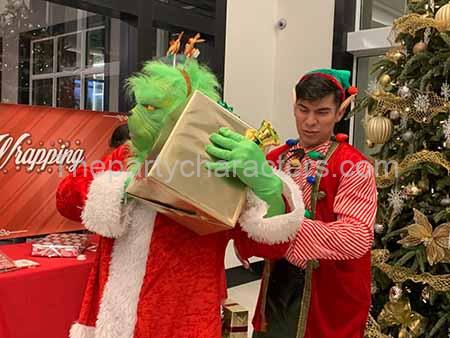 Grinch Party Character
The Grinch is available during this festive period. For the holidays, for the photos, for some old reason! He will come to your office, he will come to your house, It will leave your employees or guests wanting more.
We have great staff in Miami and Fort Lauderdale. We also are ready in Houston, Texas, and surrounding areas. Our staff in Dallas Fort Worth are also prepared. Book the Grinch for your Christmas, it will be a sensation! Make an appointment. The Grinch will be there for your Christmas fun.
Are you looking for something different for your Christmas holidays? We have an alternative or addition to Santa Claus who comes to his Christmas party or at home. The Grinch is here and is perfect for everything for this holiday season.
Bring everyone's favorite Christmas villain and bring a new touch of Christmas. You can take pictures with the Grinch. Moreover, if you have kids in your home, then you can take the kids with you to the parties. Can you understand what actual happiness is? Only the happy face of your kid gives you internal satisfaction and happiness. Every parent does the best of their best for their children. They want to make every day memorable with their children. Every parent is dame excited about their kids' birthday and happy moments. To make them feel good, all parents are always ready to spend more and more on Christmas parties. Christmas means a lot for the children also. These days the schools are off, and celebrations are always on.
Contact us to find out when the Grinch will be available during this vacation. The Grinch is available for locations all over the United States. Miami, Fort Lauderdale, Palm Beach, Naples, South Florida. NYC, Long Island, Hamptons NY. Philadelphia Pennsylvania. The entire state of New Jersey and Atlantic City. Orlando and Tampa, Florida. , Houston, and Dallas, Texas.