Houston Superheroes For Birthday Parties: Bring the Superheroes to Your Birthday Party!
Prepare yourself an epic birthday bash in Houston – a mind-blowing superhero extravaganza!
With an impressive 30 years of expertise in thrilling kids with superhero entertainment, I can guarantee that this experience will be exceptional. But what sets a superhero party apart?
Let's delve into the captivating details and uncover why it has become the hottest trend around.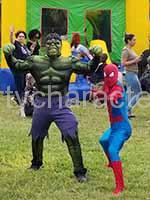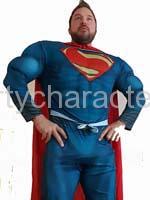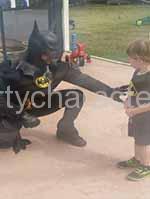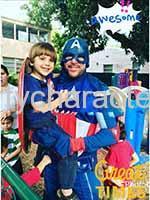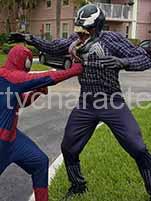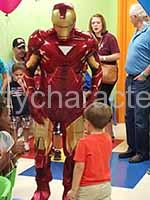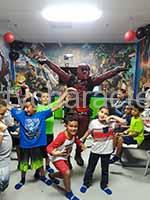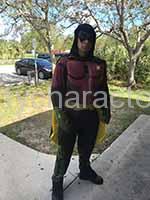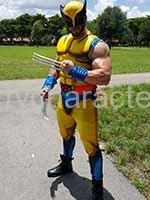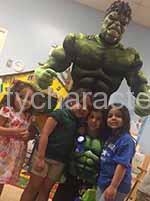 Understanding Superhero Parties
Experience the thrill and adventure of superheroes brought to life at a captivating superhero party. Let your kids become their favorite heroes like Spiderman, Batman, or Wonder Woman. Every detail is meticulously planned – from decorations to costumes, games to activities – ensuring an unforgettable experience where children can truly feel like real heroes. Watch as their faces light up with joy when their beloved hero walks in or as they conquer challenges inspired by these iconic characters. These parties create everlasting memories that will be cherished for years to come. Superhero parties are not just for kids; they captivate both young and old alike, allowing everyone to unleash their inner hero while celebrating growth and happiness together. Host a superhero-themed extravaganza in Houston and guarantee an unparalleled birthday celebration filled with magic and excitement. Make your child's special day extraordinary by giving them the chance to save the world!
Planning Your Superhero Party in Houston
Planning an unforgettable superhero party in Houston? Look no further! With over 30 years of experience in kids' superhero entertainment, I'm here to share my expert tips. Let me help you create a truly exciting and memorable event.
Create an Epic Superhero Party: Unleash the power of a perfect superhero theme. Tap into your child's favorite heroes or ask for their input. Whether it's Spiderman, Batman, Wonder Woman, or any beloved character, infuse their hero into the party for an unforgettable experience.
Get ready to unleash the power of your little heroes! Craft epic themed invitations and curate an exclusive guest list. Your chosen superheroes deserve only the most worthy companions for their action-packed adventures. Invite close friends and family members who will revel in all the excitement and join forces with your fearless champions.
Create an action-packed superhero party with exciting activities and games that will captivate children from start to finish. Design thrilling obstacle courses where kids can unleash their superpowers and conquer challenges. Or, ignite their imagination with scavenger hunts filled with clues inspired by the epic tales of their beloved heroes.
Spice up your celebration with superhero-themed delights! Impress your guests with mouthwatering "Superhero Sandwiches," refresh them with invigorating "Power Punch" drinks, and indulge their sweet tooth with logo-adorned cupcakes. Don't just serve food – unleash the power of flavor and make your event truly unforgettable!
Bring Heroes to Life – Hire Professional Actors: Take your party from ordinary to extraordinary by hiring professional actors dressed as popular superheroes like Spiderman or Wonder Woman! These talented performers will interact with guests by posing for photos and immersing them in thrilling adventures they'll never forget. 6. Transform Your Venue Into Hero Headquarters: To create an immersive experience at your party, decorate your venue with stunning superhero elements. Hang posters featuring iconic characters on the walls, use tablecloths, plates, and napkins with superhero designs, and set up themed centerpieces to enhance the atmosphere.
Ensuring a Memorable Superhero Party Experience
Capture the Magic with Professional Photography and Videography – Preserve every magical moment from your superhero party with the expertise of a professional photographer or videographer. Their top-notch equipment will beautifully capture smiles, laughter, and action-packed scenes. Discuss desired shots before the event: group photos, stunning individual portraits in superhero costumes, or thrilling action shots during games. Delight Taste Buds with a Superhero-Inspired Menu – Take your superhero celebration to new heights with a menu inspired by beloved heroes. Indulge in "Superman Sliders" (mini burgers), savor "Wonder Woman Wraps" (delicious tortilla wraps), sip on invigorating "Hulk Punch" (a refreshing green fruit punch), or devour mouthwatering "Spider-Man Web Pizza" (pizza topped with spiderweb-like cheese).
Booking Your Superhero Party in Houston
Join us in Houston for the most epic superhero party experience! With over 30 years of expertise in kids superhero entertainment, we promise an unforgettable birthday celebration for your child. Let us wow you with our ability to create a truly extraordinary and memorable experience!
Experience the enchantment of every moment with our expertly crafted photography and videography services. Witness the sheer exhilaration on your child's face as they engage with their beloved superheroes. These awe-inspiring visuals will transform into treasured memories, allowing you to relive these extraordinary moments for a lifetime.
Turn your guests into legendary heroes with our one-of-a-kind superhero party favors. Brace yourself for a thrilling experience that will last long after the party is over, as they receive personalized mini action figures, masks, capes, and even customized t-shirts. Don't let the adventure fade away – make it unforgettable!